11 Aug

NEW LUXURY HOUSE BUILDINGS IN SOUTH COOGEE, EASTERN SUBURBS OF SYDNEY– ULTRA MODERN THEMES

South Coogee Backround.

South Coogee is a highly desirable beachside suburb in the Eastern Suburbs of Sydney which has gone through a transformation over the last decade or so. What was a suburb predominating with older style California cottages is now being renewed with large luxury homes of varying contemporary styles. The subdivision of South Coogee has been designed so that many blocks of land are north and east facing which capitalise on the sea views from its hillside location. Sydneysiders consider South Coogee as valuable real estate due to its views and beachside location and have thus invested heavily with new large luxury homes in the area.

South Coogee is surrounded by the suburbs of Coogee, Randwick and Lurline Bay and is very close to Clovelly, Maroubra, Bronte, Kingsford, Waverley, Queens Park, Bondi Junction and Tamarama.

Predominating Design Styles of the Luxury New Homes in South Coogee.

South Coogee's new houses are predominantly modern or contemporary, presented in various styles within this genre. Due to view sharing issues, most of the new houses have been designed with flat roof structures in order to allow residents behind to retain their views. As a result, the new houses are predominantly designed in rectangular or modular shaped styles with varying degrees of fenestrations and proportions. Whilst most of the new homes seem to be built out of concrete and brickwork, there are some fine examples where timber and steel have been used to great effect. Much of the land is sloping, so it is not unusual for homes to comprise three levels. Other considerations for the material and design choices in the area is the extreme weather conditions experienced there.

Examples of  Three Very Different Domus Homes in South Coogee.

Domus Homes has completed three modern and contemporary homes in South Coogee, all very different from one another and unique in South Coogee.

The first luxury new home and pool (House 1) has skillion rooves which reach out to the sky like birds' wings, maximising light and views of the sea beyond to the north. The rest of the white, rectilinear structure uses concrete columns and beams to create a strong seaward elevation within which adjustable aluminium louvres sit over terraces which can provide shelter, shade or light depending on the weather conditions. Tall side walls and louvre protected windows provide protection from the strong westerly sun.

The second luxury new home and pool (House 2) is ultra modern and is completely different to the other houses described herein. Its presentation to the street is bold and varied with materials varying from rendered and painted brickwork to timber panels to a patterned stone feature wall at the entry. The back elevation comprises large box shapes which sit at different angles to one another to maximise picture framed views of the ocean whilst providing the occupants with complete privacy and westerly sun protection.

The third luxury new home and pool (House 3) is a blend of both flat roof and skillion roof components. The house enjoys maximum light and cross flow ventilation and borrows heavily on the beach side location colours for its exterior. Maximum privacy is provided to the street, whilst living areas all face north towards the sea view. The L shaped house turns its back on the strong westerly sun and provides semi enclosed, private terraces and garden areas.

Luxury New House 1 – Design Priorities.

House 1 has a street to its west and so being unconstrained by neighbours on this side, its scale could be large. The main focus of all three levels of this house is northwards towards the sea view which can be enjoyed from the upper two levels. Living rooms and the main bedroom enjoy the prime positions of the house whilst the rumpus area below also enjoys the north facing orientation. The house has been designed to have large open sliding doors at all three north facing areas to have 180 degree views of the sea, to maximise light and warmth but at the same time maximising privacy with the use of side walls and louvre panels to the terrace areas. Internal finishes were kept simple and elegant, whilst externally, the white building reminds one of the Mediterranean where white buildings are common to reduce heat ingress into the buildings.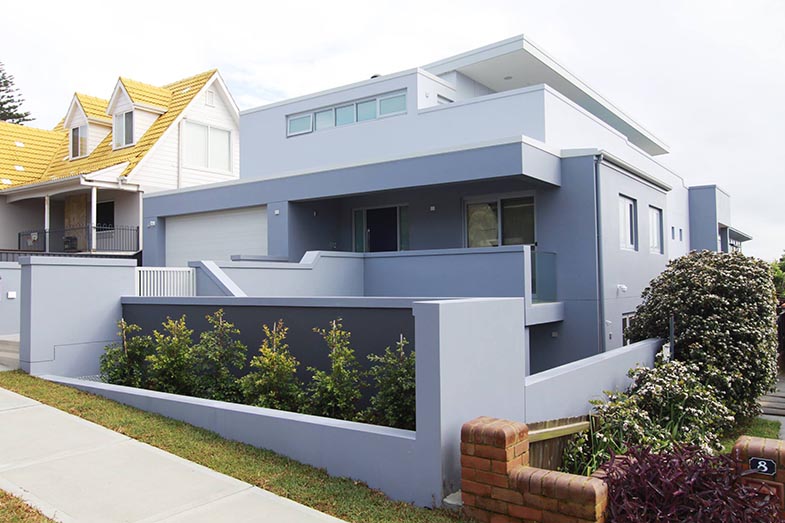 Luxury New House 2 – Design Priorities.
House 2 design priorities were to maximise views, privacy and comfort and to use elements of its beachside location to influence the materials chosen for its inside like a sea worn timber sliding door, sandstone tiles which look like the sand below, light blue doors within white walls, a bath in the main bedroom from which sea views can be enjoyed and different coloured glass portholes lining the main stairwell through the house. Some external wall colours even continue into the house, integrating the inside and the outside. Views are enjoyed from all three levels of this house which in spite of its proximity to its neighbours is still achieved.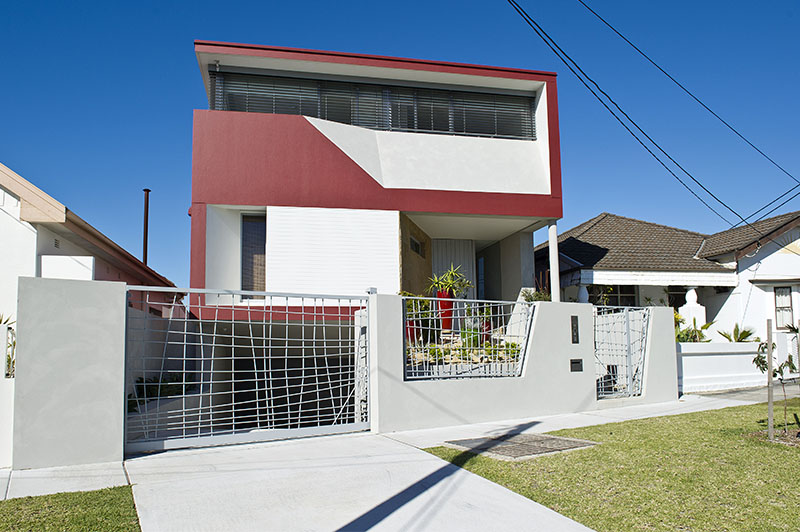 Luxury New House 3 – Design Priorities.
House 3 design priorities were to provide a top floor swimming pool adjacent to the main living, dining and kitchen area, maximise ocean views, retain privacy, maximise light and environmental elements. This modern three storey home was designed for maximum shade during summer and sun ingress during winter. The pool has a series of external windows to it providing elevational interest on the outside and a large internal triangular window at entry level where the water and swimmers can be seen through its side wall. Internal colour themes were white and grey, with tiled floors throughout with hydronic heating under. Large sliding doors open up onto large covered balconies maximising the inside/outside style of living.
Why People Move to South Coogee in Sydney's Eastern Suburbs.
South Coogee is conveniently located within the Eastern Suburbs but is close to the beach, yet is still suburban. Families can live a beachside lifestyle and still have the comfort of suburbia. The blocks of land are in the main generous with most blocks able to capitalise on sea views and for some residents, their properties line the sea. The housing stock is generally new and gentrifying and the streets are also wide, contributing to the feeling of luxury and space in South Coogee. For a family with children, this is an ideal lifestyle. Coogee Beach just down the road is cosmopolitan and lively comprising restaurants, cafes, hotels, convenience shopping, the beach, beachside parks and a long coastal walk all easily accessible. South Coogee also is close to many good schools, public transport, the Prince of Wales Hospital, the Ritz movie house and a shopping and eating hub in nearby Randwick. Access to the city is also quick.
Why Use Domus Homes to Deliver Your Luxurious New Home from Concept to Completion?
Designing and delivering a luxury new home for you in South Coogee in Sydney's Eastern Suburbs is made easy with Domus Homes because we do everything for you and we have a lot of experience. You deal with the principal of Domus Homes from Concept to Completion in a one stop shop scenario for everything including design, Council approvals through to construction delivery.
Domus Homes delivers the full construction, project management and interior design services to you at extremely economical prices, but without compromising on the service level, design or building quality to you. Our builders and consultants are handpicked for their experience, reliability, quality and economy.
Our wholesalers are accessible to you so that you save more money. Everything Domus Homes does is designed to maximise its service to you whilst minimising your costs whilst delivering exceptional quality. Domus Homes will ensure that the process is made safe and easy for you so that you enjoy the process and the creation of your new luxury home, renovation, extension or addition.
We will come to you and we will listen to you and design and build your dream home in whatever style you desire whether it be Classical Contemporary, Ultra Modern, Hamptons or Italian Villa style, Domus Homes can and will do it for you.
---
To find out more, call Domus Homes on 0404 0202 77 or email us at info@domushomes.com.au for your free site inspection.
Like Domus Homes On Facebook To Keep Track of Our Home Renovations, New House Building And First Floor Addition Projects Or Watch Our Progress Videos On Our Website Gallery.