18 Aug

Custom Designed Home Renovation And First Floor Addition Building In Pymble, Lower North Shore, Sydney Completed By Domus Homes From Concept To Completion

Design Style of Existing Houses in Pymble.

Domus Homes completed a contemporary pitch roofed house building renovation plus first floor addition in Pymble, on the Lower North Shore of Sydney. Pymble is an established leafy Lower North Shore suburb comprising wide, tree lined streets, grassed verges and large blocks of land with generous homes thereon. The majority of houses are Federation in style with pitched cement tiled rooves, large pitched gable ends and dormer windows. The homes are surrounded by large, well maintained gardens, off street parking and often include swimming pools. Many older styled California or Federation homes exist where upgrading opportunities are possible.
Pymble and Lower North Shore Lifestyle.
Pymble adjoins other well established leafy Lower North Shore suburbs such as St Ives, Turramurra, Killara, Gordon and Wirrawee and is close to Roseville and Chatswood. Pymble is popular with families not only for its quiet suburban setting, but because of its close proximity to the railway station and public transport infrastructure, major shopping centres, prestigious schools as well as the Lane Cove River and other nature reserves and parks. Pymble is also close to the Gordon, Killara and Roseville golf clubs and to Middle Harbour and the Northern Beaches.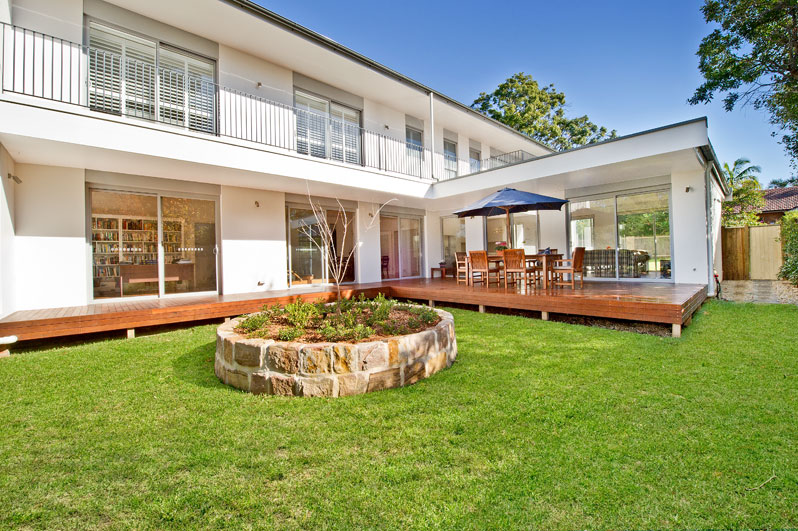 House Renovation and First Floor Addition Building by Domus Homes in Pymble.
Domus Homes' clients' existing single storeyed, brick faced house was unattractive, old, dark and small on an undercapitalised, large north facing block of land. Having two university aged children, the clients required more space and light to improve their quality of life. Domus Homes designed a modern and contemporary house renovation and first floor addition building project comprising four bedrooms, study, formal living and dining room, informal kitchen, dining, living room, laundry, three bathrooms, entry hall, double garage, store room plus extensive covered balconies and terraces.
Custom Designed Features of the Home Building Renovation and First Floor Addition in Pymble.
The clients wanted a modern and contemporary house. Domus Homes designed the renovation with elements which borrowed aspects from the predominating Federation styled houses surrounding it. This also assisted with achieving a quick Council approval. Domus Homes used a cement tiled pitched roof, timber screened garage door and floor to ceiling entry lobby window detail, dark blue recessed window and door features with crisp white external walls with a horizontal lined feature to create a handsome and unique contemporary home, still in keeping with the more traditional houses in the area.
As well as opening up the existing ground floor level, large covered north facing, timber finished terraces and balconies were incorporated into the design extending the full length of the house on both levels. A first floor addition was also added comprising the bedrooms. A flat roofed pavilion structure comprising the informal living, dining and kitchen area juts out from the main house and was added to capture light and to accommodate a large terrace outside the first floor level main bedroom. This pavilion has extensive glass sliding doors and covered timber terraces either side of it to give the room a light, inside/outside feel.
Unusual design features include painted recessed window reveals in dark blue, grey painted recessed panels above the doors and windows to give the appearance of floor to ceiling height panels externally, timber feature external panelling, a low angled pitched roof with no eaves on the front elevation for a more modern look, careful detailing to give the appearance of seamless integration of the different elevational components, end to end covered terraces and balconies, a pavilion styled main bedroom with end to end sliding doors and windows on opposite sides of each other. Timber floors were installed throughout the building which tied in with the timber terraces and external timber panelling.
Maximising north light into all the bedrooms and living areas with covered overhangs for shading, making the house light, warm in winter and cool in summer, created a stunning and comfortable home, appropriate for this large north facing block of land.
Why Use Domus Homes to Deliver Your House Renovation and Addition or Home Design and Building from Concept to Completion?    
Designing and delivering a new house, Duplex or Dual Occupancy or home renovation and first floor building addition for you in Sydney's Lower North Shore suburbs is made easy with Domus Homes because we do everything for you and we have decades of experience in delivering outstanding new homes and renovations and first floor additions. You deal with the principal of Domus Homes from Concept to Completion in a one stop shop scenario for everything.
Domus Homes delivers the full building design, project management and interior design services to you at extremely economical prices, but without compromising on the service level, design or building quality. Our building and interior designers are of the best in Sydney.
Our consultants and builders are handpicked for their experience, reliability, quality and economy, where the building owners are on the tools on every Domus Homes project. Our wholesalers are made accessible to you so that you save more money. Everything Domus Homes does is designed to maximise its service to you whilst minimising your costs whilst delivering exceptional quality.
Domus Homes will ensure that the process is made safe and easy for you so that you enjoy the process and the creation of your new home or renovation and/or addition. We will come to you and we will listen to you and design and build your dream home or renovation efficiently, economically, quickly, within budget and in the style that suits your tastes.
---
To find out more, call Domus Homes on 0404 0202 77 or email us at info@domushomes.com.au for your free site inspection.
Like Domus Homes On Facebook To Keep Track of Our Home Renovations, New House Building And First Floor Addition Projects Or Watch Our Progress Videos On Our Website Gallery.