04 Aug

ULTRA MODERN SEMI HOME RENOVATION, EXTENSION AND FIRST FLOOR ADDITION BUILDING AT RANDWICK, EASTERN SUBURBS, SYDNEY BY DOMUS HOMES.

Why People Love to Live in Randwick.

Randwick is a conveniently located Eastern Suburb of Sydney which has all the enviable lifestyle advantages that you could wish for. Randwick is close to beaches, parks, cafes, coastal walks, schools, public transport, restaurants, sporting facilities such as golf courses, swimming pools and gyms, the city, Prince of Wales Hospital, University, movie theatres, shopping and more. Randwick is adjoined by the suburbs of South Coogee, Coogee, Clovelly, Bronte, Waverley, Queens Park, Maroubra, Kensington and Kingsford and is close to Woollahra, Bondi Junction, Tamarama, Bondi Beach, Paddington and Surry Hills.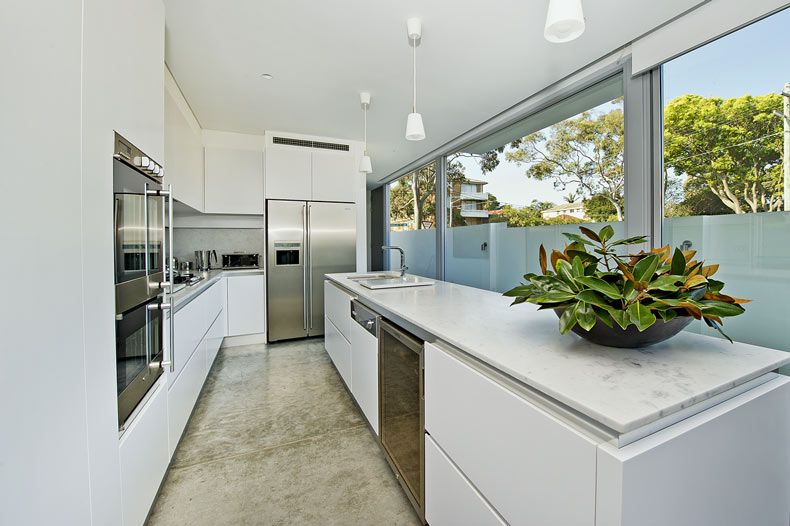 Who would a semi, terrace or apartment renovation and first floor addition building suit?
Renovating and adding a first floor to a semi home, terrace or apartment in Randwick is perfect for young couples, families and down sizers or empty nesters. This is because no matter your age, everyone loves the distant sea and park views and other convenient suburban lifestyle activities that Randwick has to offer. Randwick has a number of semi home, terrace and apartment upgrade opportunities still available to would be and existing residents. Dual Occupancies or Duplexes should also be considered as a lifestyle and investment choice.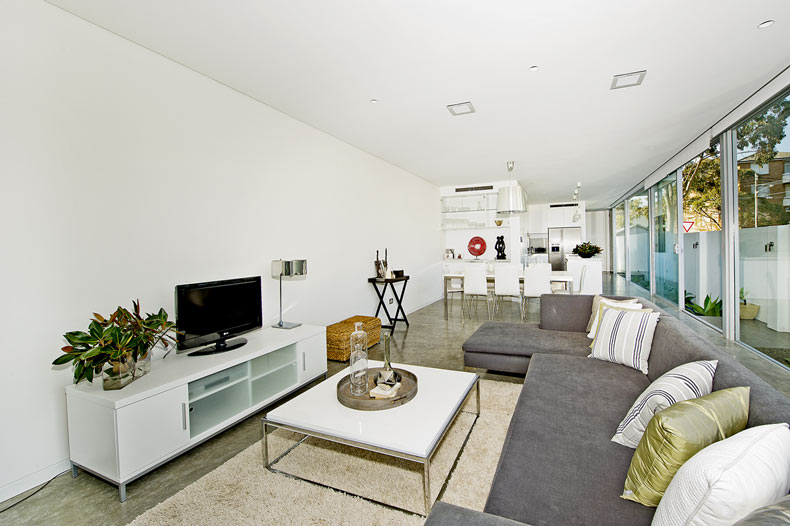 Some Advantages of Renovations, First Floor Additions and Building a semi, terrace, home, dual occupancy or duplex in Randwick.
Move to or stay in your preferred suburb but in a smaller, more affordable, lower maintenance home.
Upgrade the house, semi or terrace to your own specifications and requirements.
Create a medium size house on smaller, more affordable land.
Capitalise economically in a strong performing, high demand suburb for property.
Create a property that has high appeal value for its accommodation and affordability.
Lower cost entry level than a large house in a premium suburb.
Lower cost to upgrade than a large house.
Torrens Title land holding.
Domus Homes Designed and Built an Ultra Modern and Unique Custom Designed Semi Renovation and First Floor Addition Building Project in Randwick from Concept to Completion.
The clients required three bedrooms, two bathrooms and roof storage upstairs with a study/guest room, laundry, bathroom, open plan living, dining, kitchen on the ground floor as well as a double garage with a loft granny flat above it. Being a corner site enabled some unique features to be designed. These were:
Creation of an unusually shaped steel sloping roof to integrate with the front lean-to roof structure required to be maintained by Council.
Polished concrete floors on the ground floor inside and out plus a polished concrete BBQ bench.
Protruding rectangular bay windows with external louvres for sun and privacy control.
Glass floor to ceiling sliding doors and windows along the entire ground floor addition making it look like the first floor is floating above the ground floor.
The colour palette comprised a fresh looking white, silver and grey inside and out with warm timber floors used upstairs.
How Designing, Renovating and Building a Semi or terrace works for Everyone.   
The accommodation described above comprises a medium size house which can comfortably accommodate two adults and three children. This would work for downsizers and empty nesters too who do not want to live in an apartment block and pay strata levies, but can still have adequate space for themselves and their family visitors who can use the upstairs rooms.
For those with larger blocks of land, a dual occupancy or duplex can be considered, one to live in and one to sell or rent out or let the older kids or ageing parents move into it.
Why Use Domus Homes to Deliver Your home, semi, terrace, dual occupancy, duplex, townhouse or apartment Renovation and Addition Custom Design and Building from Concept to Completion?    
Designing and delivering a house, semi, terrace, dual occupancy, duplex, townhouse or apartment renovation and first floor building addition for you in Randwick in Sydney's Eastern Suburbs is made easy with Domus Homes because we do everything for you and we have decades of experience. You deal with the principal of Domus Homes from Concept to Completion in a one stop shop scenario for everything. Domus Homes delivers the full custom design, project management and interior design services to you from Concept to Completion at extremely economical prices, but without compromising on the service level, custom design design or building quality.
Our building and interior designers are of the best in Sydney. Our builders and consultants are handpicked for their experience, reliability, quality and economy. Our wholesalers are accessible to you so that you save more money.
Everything Domus Homes does is designed to maximise its service to you whilst minimising your costs whilst delivering exceptional quality. Domus Homes will ensure that the process is made easy for you so that you enjoy the process and the creation of your new home, duplex, semi or terrace renovation and/or addition. We will come to you and we will listen to you and design and build your dream semi, terrace, home or duplex safely, efficiently, economically, quickly and in the style that suits your tastes with no fuss.
---
To find out more, call Domus Homes now on 94027990 or email us at info@domushomes.com.au for your free site inspection.
Like Domus Homes on Facebook to keep track of some of our home renovations, new house building and first floor addition projects or watch our Progress Videos on our website Gallery.
Building Dreams into Reality