18 Jul

New Home Design, Building, Renovations And Additions – Dover Heights, Eastern Suburbs, Sydney

Why People Move to Dover Heights in Sydney's Eastern Suburbs.

Dover Heights, in the Eastern Suburbs of Sydney, is a prestigious suburb which has been going through gentrification transformation for many years. Many properties have spectacular views to the harbour, city and open sea which impacts positively on the capital values of these properties. The remaining properties benefit from large blocks of land, wide and quiet streets, easy access to the harbour and cliff walks nearby as well as many shopping precincts, schools and public transport close by. The perfect family suburb!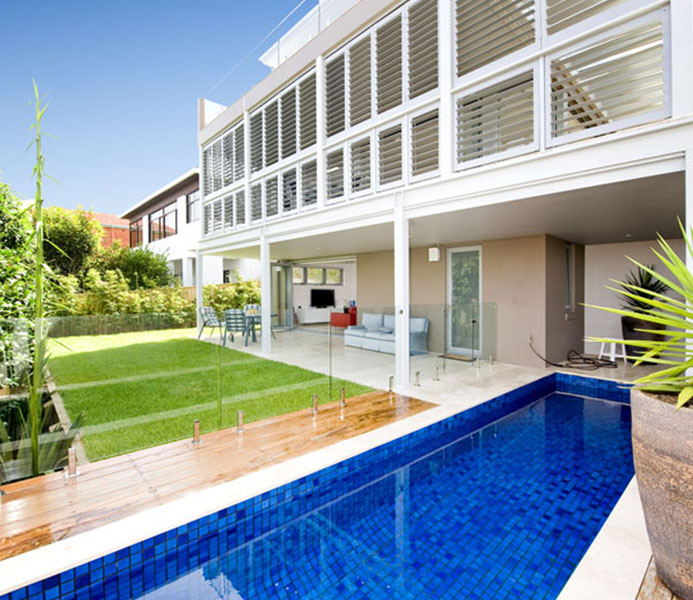 Domus Homes Completed a Spectacular Luxury, Modern, New Home, Custom Design and Renovation Building Project in Dover Heights.
Domus Homes has the benefit of decades of experience in new home building, custom design, interior design, renovations and additions. Using its extensive experience and knowledge, Domus Homes designed a stunning, major new home building renovation for its clients in Dover Heights. The site being located on a gateway position with major harbour views and neighbours only on one side, enabled Domus Homes to create an unusually large inside outside terrace which maximises views and privacy simultaneously. This feature added much needed additional living area to the house on what was a relatively small site.
A flat roof structure and side setbacks were incorporated into the design to accommodate view sharing with the neighbours behind and to create interest on the facades of the building. Multiple bifold louvres were installed on the expansive terraces to provide additional external spaces which could act as summer or winter loggias, whilst still providing shelter from extreme weather and privacy if required whilst still being able to enjoy the views. On still days, these areas could be opened up completely to maximise appreciation of the magnificent harbour views, sunlight and cross flow ventilation.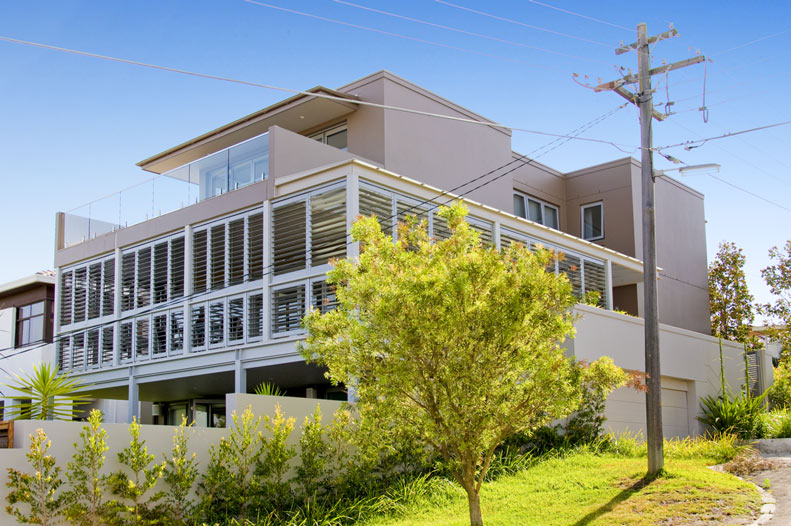 The Clients' Brief.
The clients required a master suite with study on the top floor, main entertainment, kitchen and childrens' bedrooms on the mid level and rumpus, bathroom, garage and pool on the lower level. Private landscape areas were required to provide multiple retreat spaces.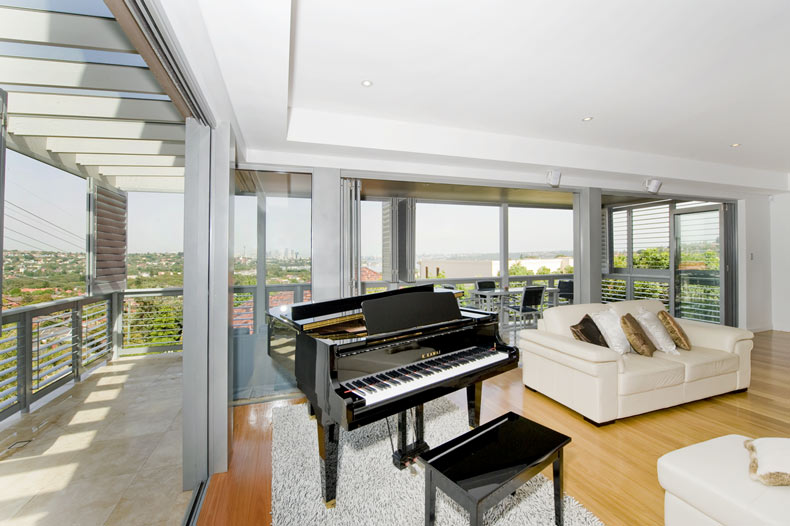 Interior Design.
Domus Homes' interior designer was used to coordinate the colour schemes and materials for the interiors and exteriors of the house. What results is a tasteful selection of colours and materials based on the client's tastes. Special features include a large skylight over the entry area, large bifold doors to the main bedroom and living areas and a large glass covered loggia inside/outside area to the south and west of the living area making the house light and open to the outside.
Ecological design elements.
Domus Homes designed a full brick and concrete house to deal with the extreme weather elements on this exposed site. Because Dover Heights is exposed to strong winds, driving rain and intensive western sunsets, careful consideration has to be considered in the design and delivery of houses in this area. Cross ventilation, shade and adequate insulation must be considered in the design of houses in Dover Heights. Under floor heating was provided under the tiled floors in the lower and mid level living areas. Domus Homes created a home where air conditioning although installed, has not been used.
Domus Homes' Experience.
There is no substitute for experience, superior design style and economical project delivery for a new home or renovation. Domus Homes delivers these critical elements for all of its clients.
Why Use Domus Homes to Deliver Your Luxurious New Custom Designed Home or Renovation from Concept To Completion?
Designing and delivering a luxury home for you in Dover Heights in Sydney's Eastern Suburbs is made easy with Domus Homes because we do everything for you and we have decades of experience. You deal with the principal of Domus Homes from Concept to Completion in a one stop shop scenario for everything.
Domus Homes delivers the full custom design, project management and interior design services to you at extremely economical prices, but without compromising on the service level, design or building quality to you. Our building and interior designers are of the best in Sydney. Our builders are handpicked for their reliability, quality and economy. Our wholesalers are accessible to you so that you save more money. Everything Domus Homes does is designed to maximise its service to you whilst minimising your costs whilst delivering exceptional quality.
Domus Homes will ensure that the process is made easy for you so that you enjoy the process and the creation of your new home or renovation. We will come to you and we will listen to you and design and build your dream home in whatever style you desire whether it be Classical Contemporary, Ultra Modern, Hamptons or Italian Villa style, Domus Homes can and will do it for you.
---
To find out more, call Domus Homes on

 

94027990 or email us at

 

info@domushomes.com.au

 

for your free site inspection.
Like Domus Homes On Facebook

 

To Keep Track Of Our Home Renovations, New House Building And First Floor Addition Projects Or Watch Our

 

Progress Videos

 

On Our Website

 

Gallery.