09 Aug

CONCEPT TO COMPLETION CUSTOM DESIGN AND RENOVATION TO APARTMENT HOME BUILDING IN NEUTRAL BAY, LOWER NORTH SHORE, SYDNEY COMPLETED BY DOMUS HOMES.

Project Location in Neutral Bay, Lower North Shore, Sydney.

This solid, terraced, absolute waterfront apartment home building with stunning harbour views is located in Neutral Bay, a prestigious, harbour front, Lower North Shore suburb of Sydney with magnificent waterfront homes and apartments in the North Sydney Council area. Neutral bay is surrounded by other harbour front suburbs of Cremorne, Kirribilli, Cammeray, North Sydney and Milsons Point and is close to Crows Nest, Northbridge, Mosman, Balmoral, Clifton Gardens, McMahons Point, Wollstonecraft, Greenwich and Naremburn.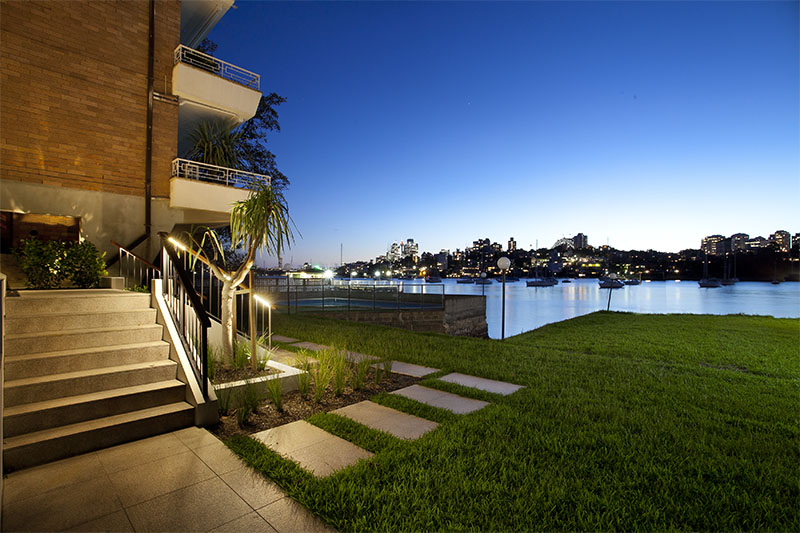 Building Description.
This apartment block on Kurraba Road comprises two large buildings which terrace down to the harbour front with a large central public area as its spine comprising hard and soft landscape components stepping down from the street to the harbour. This solid apartment block was built seventy years ago and was in need of a public area renovation to bring it up to date, maximise its value and for the owners' enjoyment.
Project Brief.
The owners requested Domus Homes to devise a hard and soft landscape solution including some interior design aspects to some areas with the following outcomes – to make the stairs and balustrades safety compliant, to make the finished project low maintenance, to upgrade all the services, to deliver a stunning design using hardwearing materials and to deliver the project design and construction in its entirety from Concept to Completion.
Project Description.
Domus Homes in response to its clients' brief and with the aid of its Landscape Architect, Interior Designer, Structural, Hydraulics and Electrical Engineers came up with a design which retained some of the existing hard finishes and replaced the tired and worn out elements. Extensive new granite paving, white painted rendered blockwork retaining walls, lighting, computer hard wiring, balustrades, stormwater infrastructure, automatic irrigation and extensive soft landscaping replaced the old elements to give the apartment block a new lease of life. Because of the scale of the project, a crane was installed to manage the vast materials handling.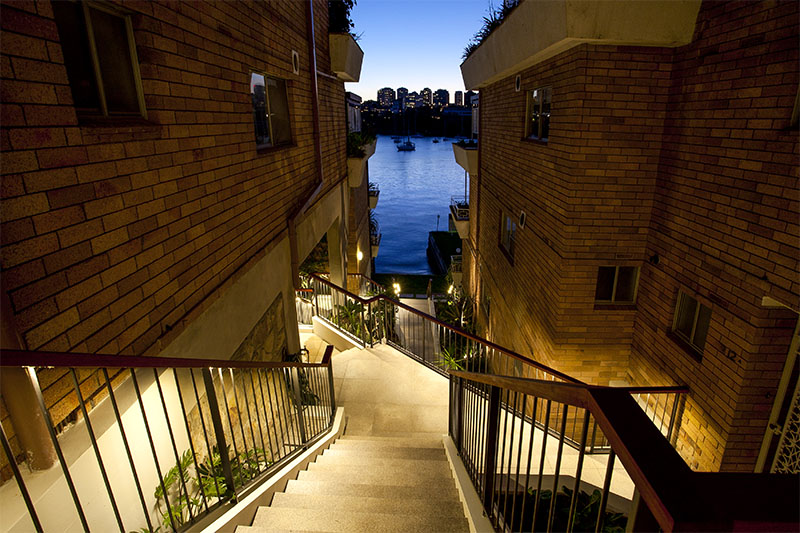 The Process – From Concept to Completion.
Following the design completion by Domus Homes, the Development Approval process was then managed by Domus Homes. After having the Construction Documents completed, Domus Homes managed the Construction Tender after which Fixed Price Lump Sum construction contracts were signed with the successful builder, again, managed by Domus Homes which project managed the contract administration to final construction project delivery successfully.
Why Use Domus Homes to Deliver Your Building Renovation and Addition Project from Concept to Completion?
Designing and delivering a new home or duplex, house, semi, terrace or apartment building renovation, addition or extension project for you in Neutral Bay in Sydney's Lower North Shore is made easy with Domus Homes because we do everything for you and we have decades of experience.
You deal with the principal of Domus Homes from Concept to Completion in a one stop shop scenario for everything. Domus Homes delivers the full architectural, project management and interior design services to you at extremely economical prices, but without compromising on the service level, design or building quality to you.
Our architects and interior designers are of the best in Sydney. Our builders and consultants are handpicked for their experience, reliability, quality and economy with the building company owners working on the tools. Our wholesalers are accessible to you so that you save more money.
Everything Domus Homes does is designed to maximise its service to you whilst minimising your costs whilst delivering exceptional quality. Domus Homes will ensure that the process is made safe and easy for you so that you enjoy the process and the creation of your new home, duplex, home, semi, terrace or apartment renovation, addition, extension or landscape project.
We will come to you and we will listen to you and design and build your renovation, dream home, semi, terrace, apartment, duplex or dual occupancy in whatever style you desire whether it be Modern Federation, Classical Contemporary, Ultra Modern, Hamptons or Italian Villa style, Domus Homes can and will do it for you from Concept to Completion.
---
To find out more, call Domus Homes on
 

94027990 or email us at

 

info@domushomes.com.au

 

for your free site inspection.
Like Domus Homes On Facebook

 

To Keep Track Of Our Home Renovations, New House Building And First Floor Addition Projects Or Watch Our

 

Progress Videos

 

On Our Website

 

Gallery.